At a Glance:
Product
:
All About Reading, Level 2
Published by
:
All About Learning Press
Cost
: $99.95 per set
Teacher Prep
: Minimal
Homeschool Method
: Any
Purpose
: To teach reading using an multi-sensory approach. Excellent tool for learning to read and struggling readers.
Teaches
: Decoding Phonics, Decoding Structural Analysis, Vocabulary, Fluency, Comprehension
Extras
: Visit
All About Learning Press
for PDF downloads for placement tests and curriculum samples from all All About Reading Levels.
Golden Apples
:
All About Reading's Mission:
To enable you to teach your child to read as quickly as you can, while guaranteeing retention and enjoyment. Our approach to reading develops children into confident readers who absorb and retain new information.
If you have used All About Reading
Pre-Reading
or
Level 1
, then it should come as no surprise the Level 2 consists of the same quality and effective teaching methods as the other programs. It is a natural extension of the previous programs.
Included in the Level 2 Set:
Level 2 Teacher's Manual
Level 2 Student Packet (includes Leap into Reading activity book)
What am I?, decodable reader
Queen Bee, decodable reader
Our Experience
My first experience with
All About Learning Press
was the
All About Spelling
curriculum. I was a new homeschooler and must admit I was a bit overwhelmed with the curriculum, yet impressed with how extensive it appeared. I feared it may be a bit much for me take on at that time. I also admit that I put off implementing the program. Once, I decided to wrestle it to the ground, I found it to be not such a brutal match. The teacher manuals made the multi-sensory approach easy to understand and implement. The program demystified spelling for the spelling challenged.
Years later, as I began to teach my third child to read, I noticed she had unusual difficulty. Remembering the success with
All About Learning Press
, I decided to try
All About Reading, Level 1
. After so many reader books, curriculum, and methods, my daughter was finally making progress. We finally hit a dent in the invisible barrier keeping her from reading. Later, we would discover she was dyslexic.
Look at that smile! She read that book and was rewarded with many stickers and a trip the dollar store! First book she read on her own!
As my youngest child grew into a full fledged preschooler, I grabbed
All About Reading, Pre-Level
. Who can resist Zig Zag Zebra?
Adorable!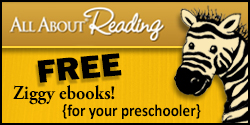 Now, let me be very honest with you. My older daughter has both phonological memory and phonological awareness issues along with poor processing speed and a weak memory. Amazing that she is one of the most brilliant and creative minds I know! She has what I call a scattered brilliance with a kaleidoscope view on the world. At any rate, as we neared the end of
All About Reading Level 1
, she had hit her plateau. It was the only reading curriculum that had broken through to her yet it seemed to not be enough. I say this to be very honest and to because I feel the curriculum is one of the best on the market. It is the only reading curriculum that I had recommended for years even above my previous favorite. I know many who recommend it for dyslexics. It provides the tools for learning in an Orton-Gillingham method.
So, why was I interested in implementing All About Reading, Level 2?
When I heard it was coming out I was so excited! I know the high quality of this program and certainly did not want to miss out on this program. But, I had no success the last time, you ask? Not true. I saw amazing success. Did you see my daughter reading that book? Normally the only evidence of a reading lesson is tears on the table. I took that picture because she was finally reading and enjoying it. I simply learned that in order for the program to work effectively, I had to take it at her pace and not my own. The program is not intended for you to run through the lessons. It is set up to bridge a gap and build a strong foundation that will emerge a reader in your child. The teacher's manuals are so easy to implement. You simply read it and apply. You will see transformation before your eyes.
For my daughter, I had to slowdown and add in other methods due to the severity of her dyslexia. Still progress is slow but there is progress. All the hard work is rewarded by the ability to read through the decodable readers that are fully integrated in the All About Reading sets.
As for my preschooler, she is just all too giddy about reading with Zig Zag Zebra and is ready to move up.
I have said this before:
"All About Reading, Level 1 is a homeschooler's Holy Grail when it comes to teaching reading."
"
If you thought teaching reading was anything but a privilege then you could be using the wrong program
."
I stand by those statements and further I want to apply them again. It is not easy to teach a child with dyslexia to read. I cannot promise you that the program will make it easy. I cannot promise you that you will not need more supplementation or remediation. What I can say is
All About Learning Press
provides top notch curriculum that will forge the road to reading. If your child is struggling, this is one of the best places to begin. If your child is not struggling, this is still one of the best places to begin. Reading is not one dimensional and black and white. Reading is alive and filled with color and excitement. It should also be taught that way. Do not deprive yourself or your child from a learning experience that understands that.